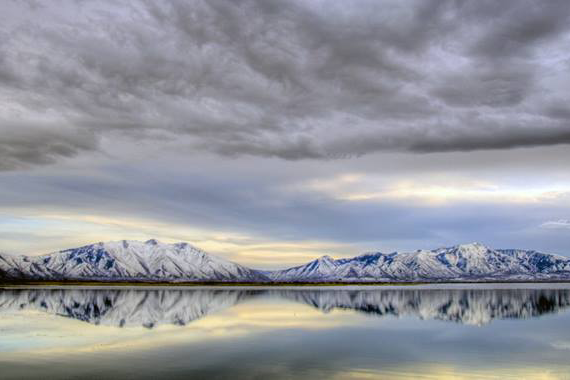 Utah Lake
Utah County
(All Data is Provisional)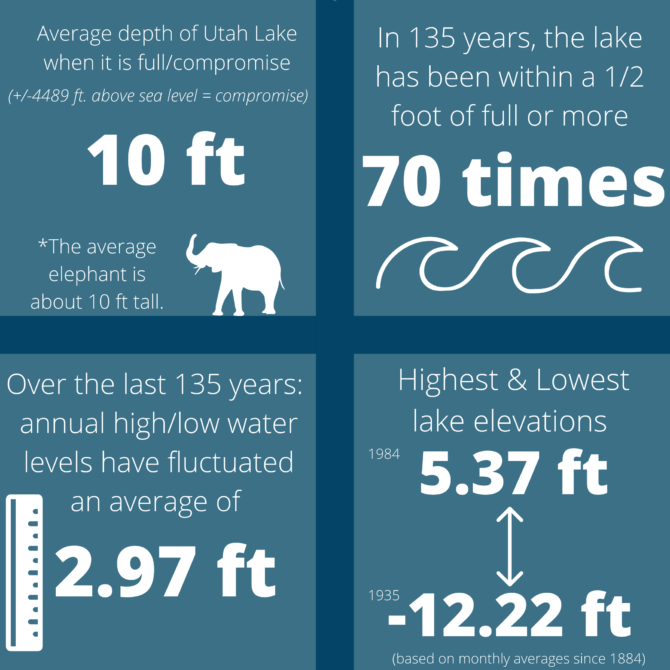 To learn more about current water levels at other lakes/reservoirs in the Provo Watershed (i.e. Deer Creek, Jordanelle, etc.), follow this link: Central Utah Water Conservancy District Reservoir Data.
Water levels are updated hourly, and you can view lake levels over the past 90 days. The number given is the current water level compared to the compromise level, which is the point at which the lake is considered full. For example, if the site shows that current levels are -3.5, then the lake is 3.5 feet below full. When the lake is full, the average depth is about 9 feet. The water level of the lake is almost entirely dependent on the amount of snow that Utah receives in the winter. Low winter snowfall will cause low water levels.  Due to evaporation and water going into the Jordan River, water levels will almost always be gradually decreasing during the hot months of the year.
To read more about Provo River Watershed current water supply information, check out this story map from Central Utah Water Conservancy District: https://watersupply.cuwcd.com/ 
*For historic water levels, take a look at the graphs below:
Utah Lake Historic Lake Levels
Monthly Avg. Lake Levels
*The charts above are intended for illustrative purposes only. The data represented is taken from the Utah Division of Water Rights website and uses the daily levels reported to create monthly averages and annual high/lows.
Compromise Elevation: The maximum legal storage elevation in Utah Lake. Compromise elevation was first established in 1885, and was recently modified in 1985 to be 4489.045 feet above mean sea level. When the lake is at this elevation, the total storage capacity is approximately 870,000 acre-feet, of which 710,000 acre-feet is active storage capacity and 160,000 acre-feet is inactive storage capacity. Whenever the level of Utah Lake is above the compromise level, the control gates are required to be fully opened. The exception to this rule occurs when fully opening the control gates causes the Jordan River to exceed a maximum flow rate that is specified in the 1985 Compromise Agreement (Civil No. 64770)
Inactive Storage Elevation: The portion of Utah Lake that is not accessible to the pumps, and therefore, cannot be diverted. The inactive storage is currently estimated to be 160,000 acre-feet (8.7 feet below compromise)